Copy Done Properly
I write research-driven copy that says exactly what your reader needs to hear to take action. No more guesswork, endless tweaking, or leaving money on the table as 'almost-buyers' bounce away from your page unconvinced.
Siobhan James
Conversion Copywriter + Designer
THE PROBLEM
Writing Your Own Copy Feels Like Torture
You're a world-leading expert but you draw a blank when it comes to writing your copy. There's so much you could say… but you don't know what they actually need to hear.
You're too close to your own project.
"Am I saying enough?"
"Am I saying too much?"
"Am I saying the wrong thing?"
The nagging doubts keep you stuck in 'tweaking mode' as you try to guess your way to a higher conversion rate.
THE SOLUTION
Research-Driven Copy, No Guesswork
I combine extensive audience research and customer interviews with proven conversion principles and buyer psychology—to give you a  marketing message you have total confidence in.
step
Research
Client Interviews
We'll have two 90-minute Q&A sessions so you can tell me everything there is to know about your audience and product.
step
More Research
Audience Surveys
You'll be guided through sending research surveys to your customers and leads, to collect data on why people buy from you.
step
Even More Research
Customer Interviews
I'll speak with 5-10 of your actual customers to understand what drives them to buy and to hear what language they use.
THE RESULT
Copy You Can Be Confident In
I translate the insights from my research into proven copywriting frameworks that engage, educate and convert.
Sales Pages
Landing Pages
Sales Emails
Nurture Emails
Ad Copy
Webinars
Finished off with smooth UX and a professional design that matches the world-class quality of your product.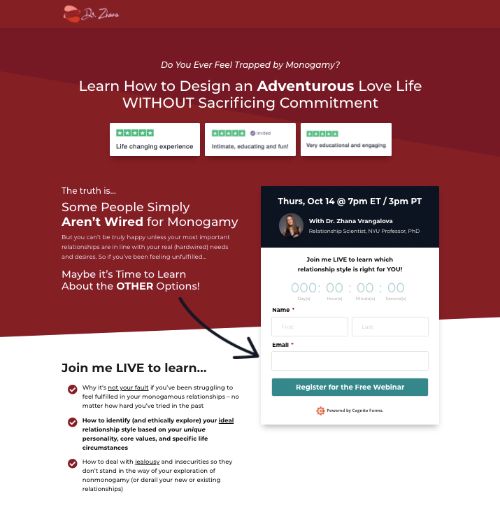 "I'm thrilled with the work Siobhán has done for me.
I came to Siobhán hoping to make sure every element of my student experience was first class. I wanted to work with someone who could take my ideas and vision and not just replicate it, but make it better. Someone with the skills and expertise to make every little piece really, really great.
Not only did Siobhán do all of this, but she also really cared about my project. And with her skill, artistry and enthusiasm, she has made me even more confident and excited about the future for my online programs.
So happy I found you, Siobhán!"
— Larry Silverberg
(Sales Page Design)
NEXT STEPS
Schedule a Discovery Call
For best results, you'll need…
Value – A product that solves a real problem for your audience
Validation – 10 paying customers OR $3k in sales for this product
Traffic – A reliable way to get quality traffic to your site
Budget – Resources available to invest in conversion copy