Expert training on persuasion psychology, messaging strategy, and copywriting.


Step-by-step walkthroughs for building a powerful sales message from scratch.



1:1 Feedback

Unlimited support from experienced copywriters and marketers via Zoom.


No questions asked, money-back guarantee for ANY reason within 30 days.


The '2022 Course Crush'
Sold up the creek without a paddle

COVID lit a fire under experts around the world. They rushed online to turn their knowledge into a new income stream. Course creation boomed.
But while all of the tech platforms, gurus, and big names encouraged them to make their online courses, nobody told them how to actually sell it.

So, frustrated course creator...
Does this sound familiar?

"Not enough people are buying my course, but I don't know what I'm supposed to change"


"Maybe I'm kidding myself and nobody wants this? Or maybe the price is too high..."

"My list is growing but they're not buying. Maybe I should have done a webinar? Or a mini course? Or a summit..."



"I hired someone to market my course for me, but it's not getting results... and their approach doesn't feel right to me"

"I tried to learn about copywriting but I still don't know if I'm saying the right things"

"Even when I follow the advice, it still doesn't work and I feel stupid. Maybe I should throw in the towel..."
And it sucks because...
This isn't like you

You're the one people usually turn to for advice... And yet you can't figure out how to sell your own product.

You usually pride yourself on doing things properly... And yet nobody seems able to tell you the right way to write your copy, step by step, without having to guess.

You're a natural leader and a world-class expert... And yet you can't figure out how to get people into this product that you know will change their lives.
And the lack of progress is taking its toll.



/page
The Important truth:
Bad messaging is why people don't buy

If you've been thinking that copywriting is a creative skill...
You're wrong.
Writing good sales copy is a science, not an art.
And it's a science that can be taught, learned, and mastered—without a shred of creative ability.
So far, you've probably tried the approach copywriters call 'page-filling'. That's where you sit down in front of an empty page, try to remember some of the copywriting tips you read in that blog post once, and start typing whatever came to mind.

But even if you can churn out enough words without tying yourself in overwhelming knots, it won't convert.
You might think...
"But I know my audience well enough to write what they need to hear. Nobody knows this audience like I do... so, why wouldn't I be able to wing it?"

Even the best copywriters in the world don't wing it.
They don't sit down with a blank page and start writing copy.
Because messaging is what matters.
High-converting copy always comes from a solid messaging strategy.
It's the 'what' to say, while copywriting is the 'how' to say it. The cake, to copywriting's sprinkles.
No marketing works without good messaging.
But the liberating truth for you is...
Successful messaging isn't an art. It's a simple science.


And, tough love Moment...
No, you can't just get someone else to figure out your marketing for you
What do outsourcing course creators always think will happen?
Better marketing, more results, faster growth.
What actually happens?
The truth is...

Nothing will work consistently until YOU understand how to get people to buy your course
And before you say...
"I'm just not good at this stuff."
"None of the advice I find ever actually helps."
"I'm tired of everyone saying different things about what I should do."
Hold that thought.

/page
Because the reality is...
It's not as hard as you think it is to get your messaging right

...provided you have a step-by-step system for building a real sales message.
Not just 'guesswork copywriting'. And not just high-level theory that you can't put on a real page, in a real marketing funnel, to generate real revenue.
We know it's possible, because when our clients finally develop a proper sales message, they get...
Marketing that actually works. Consistently turning new visitors into paying students, and newfound confidence in the future of their business.
No more guessing and tweaking. They know they've said the right thing because they followed a proven process, so the doubt and imposter syndrome are things of the past.

Great messaging at every stage of the funnel. With an understanding of how their messaging strategy actually works, they can make a cohesive student-generating machine instead of a disjointed collection of pages, emails and posts that don't get students.
Money saved on expensive fees. Instead of hiring costly experts to work on specific puzzle pieces, they're no longer dependent on other marketers, copywriters or consultants for the success of their business.
And, most importantly...
They get to feel excited that they can finally grow their business, with a full understanding of exactly how to persuade people to buy.

You might be wondering...
Who are we to guide you on this journey?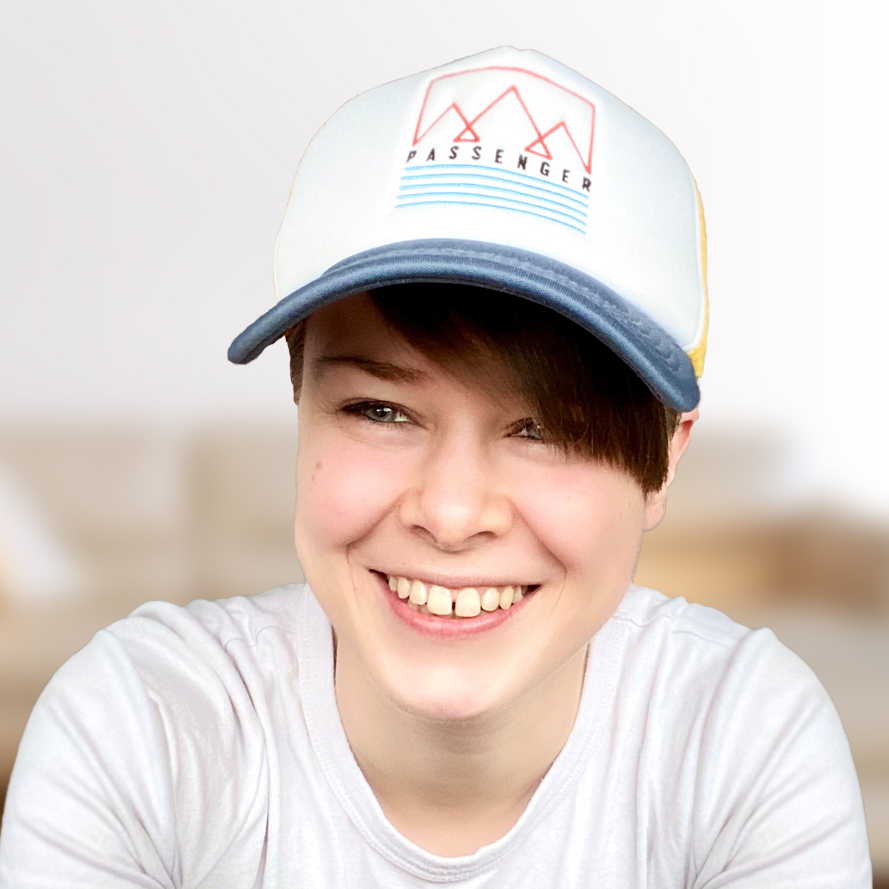 I'm Siobhán (pronounced "Shiv-awn") and I help experts sell online courses.

I'm a professional copywriter and messaging strategist proudly recommended by top creators and companies like Teachable.

6 years ago, I was working in-house at an established marketing agency. But in my free time, I consulted with industry experts on how best to launch and scale their first online course. Before long, I was hooked on the fast-growing world of online courses.
Since then, I've worked with experts from around the world, helping them transfer their knowledge into an online product that sells, giving them more reach and impact than ever before.
Passionate about bridging the gap between 'academic' persuasion theory and real-world messaging strategy and copywriting, I founded MessageLed to teach business owners how to create their own message that sells—empowering them to have the voice and the impact that their expertise deserves.
Now, I'd like to take you on that same journey.


"Every time Siobhán touches something, my conversions go up!
Course sales averaged 50% more after we tweaked the course sales pages. I think we could easily double that with a few more tweaks, especially as our traffic is growing steadily with the rapidly growing interest!"

"OMG, we got our first sale! Next week, we'll pop a virtual bottle!
We realised our biggest problem was that our message wasn't powerful enough. After working on it with Siobhán, almost immediately we saw a jump in our traffic and, after only 10 days, we had our first ever conversion! But the deepest impact has been on our mindset and confidence in what we do. Thank you so much!


"I would be up the creek without your help!
Such a fantastic job coaching me through my course challenges! I highly recommend every creator take advantage of this amazing resource–you will save so much frustration with Siobhan's help!"

INTRODUCING...
Messaging Mastery
The ONLY online program that helps course creators master persuasion psychology, messaging strategy, AND copywriting—in 30 days or less—so that their course finally SELLS.

Soon, you'll have a fully-developed sales message that persuades right-fit buyers to buy your course like clockwork.
On-demand video training
Step-by-step workbook with activities
Unlimited 1:1 support on Zoom with a marketing pro
You'll leave with total clarity on 'what to say' to sell your course, and long-term confidence in all of your future marketing efforts—WITHOUT guesswork, hiring expensive marketers, or needing a degree in copywriting.

[pricing plans]




Course Curriculum
Here's how it works

Expert training on persuasion psychology, messaging strategy, and copywriting.


Step-by-step walkthroughs for building a powerful sales message from scratch.



1:1 Feedback

Unlimited support from experienced copywriters and marketers via Zoom.


No questions asked, money-back guarantee for ANY reason within 30 days.


Module 2
Spit-Drafting Your Message
Create an outline of your message (line by line), so you know what needs to be said before you start writing.
Because if you don't have a plan for hitting all of the important persuasion milestones in the right way (and in the right order), writing will be 10x harder—and way less likely to get results.
No more 'empty page' overwhelm.

Module 4
Constructing Your Funnel
Understand how to use your message—where to put it and how to build a marketing system around it.
Because there's a lot more to selling than having a sales page. You need to know which parts of your message to deliver at each stage of your marketing, so that your audience is guided through the decision-making process smoothly, on auto-pilot.
No more random marketing spurts.
Plus expert help with...
Unlimited Support For 30 Days to Stay On Track
Channel 1 Unlimited video feedback
Submit any part of your message while you're working through the program, and get a video recording with expert feedback within 24 hours.

Channel 2 Unlimited Zoom support
Get unlimited access to our live coaching scheduler and book 1:1 sessions with a marketing pro—Monday-Friday, 4am-2pm ET (10am-7pm UK).

And that's not all...
Includes early access to 2x upcoming products
Released in March 2023...
You'll get first access to 2 bonus resource packs.

Bonus #1
The 'One-Click' Funnel

Overwhelmed at the thought of creating an entire email marketing and webinar funnel from scratch? This is an importable marketing funnel that can be loaded directly into a ConvertKit account.
1x webinar landing page template (ideal for WebinarKit)
1x webinar reminder sequence to boost attendance
1x nurture email sequence to build trust
1x sales email sequence to promote your course
Fill in the blanks in each template, and in record time, you'll have a launched marketing funnel to convert students, with minimal tech set-up.

Bonus #2
'Get The Word Out' Bundle

No need to reinvent the wheel. When you're trying to attract traffic to get prospects into your funnel, creating each bit of outreach from scratch can take months. Instead, grab our traffic-generating copy templates.
3x podcast outreach emails (get interviewed)
4x guest post request emails (get featured)
52-week content marketing plan with blog post ideas
104x social media prompts and templates
So that you can fill your funnel with right-fit traffic and start converting prospects into eager students, ASAP.
THE OVER-THE-TOP GUARANTEE
Get More Than Your Money Back

If you request a normal refund within 30 days of opening, it's yours. That's an easy promise.

But we're so confident that you'll get clarity on your messaging strategy that we'll give back MORE than you paid IF you follow all of our guidance for the full 30 days, engage with our team when you feel stuck or need 1:1 help, and still don't feel able to create a powerful sales message that converts. If that happens, we'll refund 120% of what you paid.
Why are we crazy enough to offer this?
Because we know this works.

Time to hop off the fence
5 Quickfire Questions Before You Pre-Enroll


Why isn't anyone else talking about messaging?
The honest answer is "because it's complex". Online business gurus and marketing teams at tech companies can knock out a blog post called '8 Copywriting Tips For Course Creators' in 15 minutes or less and start getting SEO traffic from it in a few weeks. And when all that matters is getting new users or email subscribers, putting out that kind of content works just fine.
But it doesn't work fine for course creators themselves. The thing is: most great marketing advice has been regurgitated so many times by now that few people understand the foundational principles. Especially not people without experience building messaging strategies for a variety of niche products.
The bottom line is that there are very few people who genuinely understand (and could teach!) how to build a successful sales message from scratch—let alone fit useful content into a listicle-style blog post. So we're stuck with quick copy tips and design hacks instead.
I need to make sales ASAP. Can I come back to this later?
It can be very tempting to throw up some guesswork-copy 'for now' so that you can launch quickly and start getting sales in.
The thing is... is it a good shortcut to choose, when it's very likely a quicker route to a marketing message that doesn't convert?
There are very few tasks that come before messaging strategy when it comes to launch priorities. And while nothing is stopping you from coming back to this later... just know that, in our experience, you'll come back a lot sooner than you think, and it won't be because it's working. It'll be because it didn't.

I have no marketing experience. Is that OK?
Yes. This program was made for course creators who are world-class experts in their field, but who don't necessarily know how to sell a product online.
Even if you've never had an email list or written a single line of sales copy, you'll be able to follow along step by step as we build your message.
And you'll also have unlimited expert support and feedback for 30 days, so you're not flying solo.
Is this just for beginners? I already have some experience.
Even experienced marketers and copywriters will get value from this program. As copywriters ourselves, we spent years frustrated that there is such a huge gap in the market in terms of learning the fundamentals of persuasion psychology.
It seems like every marketer has their own way of doing things, figured out through trial and error, but nobody is diving into the genuine psychological theory behind these best practices and making it accessible and systematised so that we can all put it into practice.
As a litmus test, if you're already familiar with...
Ego-involvement, the cognitive dissonance model of persuasion, social judgement theory, peripheral vs central persuasion routes, basic desires theory, goal valence and orientation, contesting strategies, biased processing, defence mechanisms, trait reactance, self-concordant goal motivation...
Then you might not need this course.
But if those concepts are alien to you (which is wild, right—given that they're 'persuasion 101' and we're in the business of persuasion? And yet nobody is teaching this stuff?)... you're going to get something out of this program. Or your money back.
I'm super busy. How much time will this take?
As much or as little time as you have to spare. We recommend setting aside at least a few hours a week to work on your message and get through the process at a decent pace while making the most of the unlimited feedback for your first 30 days.
You'll have lifetime access to the curriculum, but those handful of hours each week will mean you make much more progress while an expert is still on hand to help.

You've come this far
Now You Have a Choice
"If you always do what you always did, you'll always get what you always got." (Heard that one?) Change requires action.

Option 1 Open up another blank doc and keep winging it
Join the many course creators with grand ambitions for a passive income, whose project ultimately flopped because they didn't know how to sell their product properly.



Option 2 Start taking your messaging seriously
Join the ones who figured out how to make it work. The ones who put in the work to create a powerful sales message, build a real marketing system, and lead an impactful business.



/page
Still reading? Here are...
9 Signs You Need This Messaging Course

Do you want to persuade more people to buy your course? That's your first (and most important) sign. Here are 9 more, in case you need them...
You haven't started marketing yet ...but you want to make sure you get it right the first time.
You launched your course a while ago ...but you haven't been getting enough sales consistently yet.
You're already recognised as a credible expert ...with experience helping this audience with this problem.
You're willing to learn properly ...mastering how to persuade people to buy with meaningful depth.
You're already serving this audience ...spending more than 4 hours per week helping them get results.
You care about selling ethically ...using empathy and compassion, instead of pressure tactics.
You're prepared for more students ...ready to onboard and cope with new students at a larger scale.
You want more than superficial tips and tricks ...you want detailed, step-by-step training with expert support.
You feel confident pre-enrolling for February 6, 2022 ...knowing that you have a full 30 days from when the course opens to change your mind—and that we'll even pay you more than your money back if you commit to the process and it doesn't help.
If you fit that bill...
You will not find another program better suited to helping you increase course sales. This one is for you.